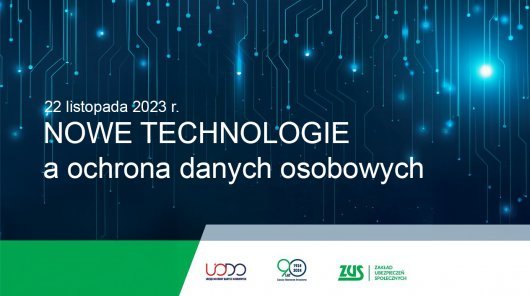 14.11.2023
New technologies and personal data protection - the conference of UODO and ZUS
We would like to invite you to a conference organised by the Personal Data Protection Office and the Social Insurance Institution (ZUS) entitled "New technologies and personal data protection".
The conference, which will take place on Wednesday, 22 November 2023, at ZUS Headquarters in Warsaw, is part of the celebrations of the 90th anniversary of the Social Insurance Institution. Honorary patronage over the anniversary celebrations has been assumed by the President of the Republic of Poland, Andrzej Duda.
The aim of the conference is to hold a discussion on the latest trends and challenges related to data protection in the digital age and to create a space for dialogue and collaboration between the various actors dealing with these issues.
Experts and researchers dealing with the above topics will participate in panels. The conference will provide an opportunity for participants to exchange views and experiences.
You are cordially invited to attend this event on 22 November 2023, from 10:00 to 16:30 at the ZUS headquarters at 3, 5 Szamocka Street in Warsaw.
Agenda of the conference (in Polish)
The conference will be broadcast on YouTube on the Elektroniczny ZUS channel. The link to the broadcast will be made available here on the day of the conference.