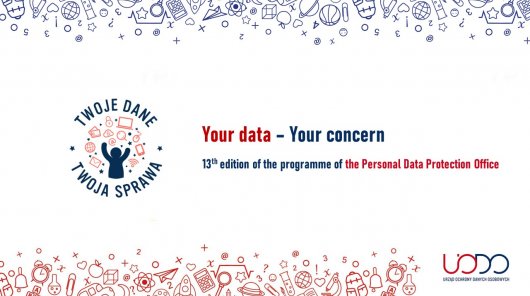 23.06.2023
Chronicle of the 13th edition of the "Your data - Your concern" programme
The number of students who know more about data protection has increased. This school year, more than 47 000 pupils took part in lessons, extracurricular activities and thematic events organised in the 13th edition of the 'Your data - Your concern' educational programme. This means three thousand more students than in the previous edition of this programme.
In the ending school year 2022/2023, 276 schools took part in the Polish SA's educational programme, which organised more than 4 000 initiatives (lessons and thematic events) - including 305 such events on the occasion of the 17th Data Protection Day.
Over 47 000 students participated in lessons, extracurricular activities and thematic events. More than 3 200 teachers were trained and involved in activities so as to ensure that the idea of privacy and data protection is an important part of school education.
- Such a wide interest of schools in participating in the programme and the huge number of implemented initiatives prove that education in the field of personal data protection is extremely necessary,' Marta Mikołajczyk, programme coordinator at the Polish SA, summed up.
The ending edition of the programme abounded in numerous events aimed at and involving students and teachers. Among other things, training sessions and webinars were organised, including a series entitled "GDPR in the school bench". A good dose of knowledge was passed on to the teachers - the school programme coordinators - so that they could share it with the teaching community. A series of thematic webinars from the #DataProtectionLessons (in Polish #ODOlekcje) series was very popular with students.  The topics of these meetings were chosen to be engaging and useful for the participants. Guidance for teachers and students continued in the form of the 'It is worth knowing...' advice series.
They also enthusiastically responded to the invitation of the President of the Polish SA to get involved in the celebration of the Personal Data Protection Day by preparing, under the supervision of teachers, a number of initiatives that were addressed to both the school community and the local community. Schools and students took part in a competition organised as part of the programme.
During the 10 months of the programme's implementation in the 2022/2023 school year, an offer tailored to the needs of pupils of different ages - from grades 1-3 to teenagers - was prepared. Different needs were taken into account, including ensuring that content was tailored to pupils with special needs.
And now the holidays and... we are already looking forward to the start of the next 14th edition. See you there!